June 7 - 9, 2019
Port Townsend, Washington
Perilous Expeditions!

Join the Brass Screw Confederacy for its seventh annual Steampunk Festival. This year we celebrate the extraordinary derring-do of our favorite intrepid adventurers - you!  That time you confronted the bumblesnatch in its lair armed with only a tea cozy?  That expedition to Mazatlán to discover the secret of perfect pitch?
Let us reconvene in comfort amongst congenial companions and compare past encounters in conspiratorial competition. And to encourage you, the Brass Screw Crew will once again bring you your favorite bands, stars, bodger exhibitions, spectacular vendors, and more to delight and entertain.
Embark upon Perilous Adventures to exotic domains on the outskirts of imagination. Celebrating Port Townsend's designation as one of three Victorian Seaport in the US, come decked out in your steampunk finery for another amazing year's adventures....
What You Know to Expect
So while we aren't the biggest, fanciest, first, and we certainly hope we aren't the last steampunk something-or-other on Earth – we've got something to steam up ingenues and aficionados alike. You won't be disappointed.
We aim to rock you back on your boot heels and steam up your goggles. We're turning it up with our Hottest Hootenanny ever, Tactical Croquet, the stupendous Bazaar of the Bizarre, Brass Screw Chautauqua, bands, magic, and mayhem galore!
Featured Events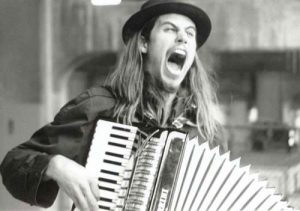 This year the Brass Screw Confederacy proudly welcomes to our Saturday night Hootenanny the hard-stompin' Jason Webley, a gritty, smokey-voiced native son of the Northwest. If you have not heard him perform, be prepared to find what you've been looking for in voice and feeling. 
Friday night's Den of Iniquities moves to a grander locale replete with burlesque elegantly curated by our own Vermicious Knid included in an eye-popping variety show. We welcome the return of Hot Damn Scandal, tipsy gypsy swing at its finest. We're also proud to introduce the house band for Friday night, Douglas Francisco and the Shaky Barbers.  If any band of brothers ever embodied a bucket of iniquities, these is them.